Android 2.4 is actually Ice Cream Sandwich, possibly a version of Honeycomb for phones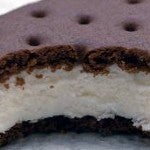 On Tuesday, we
reported
that multiple sources were saying that Android
2.4
would be called Ice Cream to go along with the dessert-flavored names for the different builds of Google's open source OS. Usually, the parents get naming rights so it is appropriate that we listen to Andy Rubin who is considered the "Father of the Android OS". The Google VP recently told the guys at Tech Crunch that the name of Android 2.4 will be Ice Cream Sandwich. Why add Sandwich to the name? Well, a bowl or cone of Froyo would look just like a bowl or cone of Ice Cream so adding the Sandwich to Ice Cream will differentiate Android 2.2 from 2.4.
An interesting theory about Android 2.4 has been put forth by IntoMobile. The idea here is that Ice Cream Sandwich will be a version of Honeycomb for phones. Andy Rubin has stated that Honeycomb would be meant for tablets but be compatible for both tablets and smartphones. With the smaller sized screens on a phone, the Honeycomb OS might not produce images that would work on say, a 4.3 inch screen as opposed to a tablet sized display. So the thinking goes that Android 2.4 takes a little Honeycomb, mixes in some of its own features and adds up to Ice Cream Sandwich. Of course, all of these theories just might be getting way ahead of things. After all, Android
2.3
has yet to be downloaded to all appropriate Android handsets that meet the system requirements which means no Ice Cream Sandwich until you finish your Gingerbread.
source:
IntoMobile