Humble Mobile Bundle 22 costs just $5 and includes 8 great games
1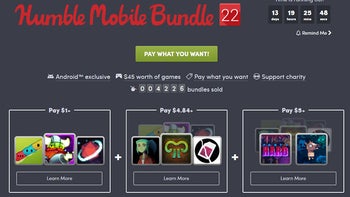 One of the best point-and-click adventure games launched on Android,
Oxenfree
is now part of the latest Humble Bundle for mobiles, along with seven other no less important titles.
For the right amount, you'll be able to get all eight
Android games
, but if you want a specific game that's included in a lower tier, you'll pay less. The absolute lowest amount that you must pay to purchase any of the games included in the bundle is $1.
For $1, you'll get three games: Splitter Critters, Star Vikings Forever, and Galaxy of Pen & Paper. However, for exactly $4.84 you'll be getting three more titles such as Oxenfree, Mushroom, and Another Lost Phone: Laura's Story.
Still, instead of paying $4.82 for the mid-tier, you'll make a better deal by paying $5 and get yourself the entire
Humble Mobile Bundle
22, which includes the six title mentioned earlier plus two more: Party Hard Go and Death Road to Canada.
Of course, you can support a charity by paying more than $5 and choose where the money goes – between the developers and any other charity listed at PayPal Giving Fund.