Best games for iPhone and Android
3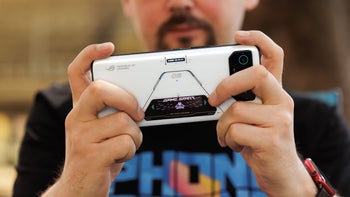 Less than a decade ago, the mere concept of mobile gaming caused techies and gamers alike to scoff. But, nowadays, mobile gaming is alive, well, and massive. And, thanks to smartphones becoming super-powerful, we actually get pretty decent shooters, adventures, platformers, and strategies — not just connect-3 games.
Here are the best mobile games to install right now:
Table of contents:
Best action and shooter for iPhone and Android
Apex Legends Mobile
We find Apex Mobile to be the absolute current best if you are looking for a good shooter for your phone or tablet. The quality (if you have a powerful phone) us super-close to what you can see on consoles and the controls feel just as smooth and satisfying — something that developer Respawn seems to be very good at fine-tuning.
Call of Duty: Mobile
This one needs no introduction — Call of Duty is such a massive franchise that, once the Mobile spinoff dropped, it was instantly downloaded by millions of people. We do feel like its controls need a bit of a tune-up, as they don't feel as smooth and accurate as Apex. But it does still support your console controller out of the box.
Lost Light
Escape From Tarkov for mobile, but 3rd person — the game is pretty shameless in flaunting its inspirations, from the Factory map down to seasonal wipes. Of course, since it's a mobile game, it's a bit simplified — at the very least, you have a working map that shows you where your extractions are.
However, don't be quick to dismiss it. The game does involve a ton of the complex systems that Tarkov challenges hardcore players with — from bleeding and fractures, different vendors and a player-driven black market, to scavenging for rare supplies and building your hideout up from nothing.
So, you should brace for a pretty lengthy introduction tutorial period over the span of a few level playthroughs before you can hope to actually join PvP.
Lost Light doesn't support controllers on mobile, but it's available for PC and Nvidia Now, where you can use alternative controls.
Badlanders
Another Tarkov-inspired 3rd person shooter game. This one, however, simplifies gaming mechanics much much more. So, if you want a bit of that Tarkov buzz with a distinct "mobile game" feel and no plethora of punishing mechanics — this one is more up your alley.
Critical Ops
Counter-Strike is one of these timeless games that simply refuses to fade away. As such, it also has a ton of mobile clones made, so you can scratch that CS:GO itch… when on the go.
We find Critical Ops to be among the most successful of those. Beware — it has a big community of experienced players and they won't take it easy on you, not even from the first match in.
Survivors get to enjoy the adrenaline-pumping PvP that we've known over the past 20 years.
New State Mobile
The intricacies of PUBG's developments are an ever-tangling drama, but we'll save you the long story — PUBG New State is newer than the original PUBG Mobile. It's developed by a studio of veteran PUBG developers that broke off to make their own mobile game (and the company is called PUBG Corporation).
By all means, New State came out kicking and punching, with improved graphics and smoother controls. At their core, both are the same games, but if you are feeling like scratching that PUBG itch with a phone, New State should be the one to download.
Alien: Isolation
Vampire Survivors
Homeworld Mobile
An absolute classic from the late 80s. It may be a bit frisky for your tastes, as the game involves trying to get our protagonist — the lovable loser Larry Laffer — to find... hmmm, companionship.
Chrono Trigger
Recommended Stories