Huawei quietly puts Mate 9 with 6GB RAM and 128GB of storage for sale
8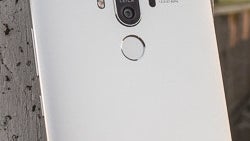 Huawei has been selling its Mate 9 since last November. The top-end model features 4GB of RAM and 64GB of storage, with no word about a more powerful version of the smartphone making an appearance. Granted, leaks dating from October had alluded towards the existence of a 6GB RAM model, but nothing had come out of it until now. Out of the blue, a 6GB RAM / 128GB storage version of the Mate 9 went for sale at Amazon and TO2C.
While the company has made no announcements in regards to the 6GB Mate 9, the seller on Amazon is specified as none other than Huawei itself, and then there's a second reputable retailer selling the device. So chances are the 6GB RAM / 128GB storage Mate 9 is, indeed, the real deal.
Memory aside, core specs remain the same, but the price has been bumped significantly. While the base model remains at $600, the souped-up version goes for $880. The considerable price premium probably won't do Huawei any favors, as specs enthusiasts will also consider the $480 OnePlus 3T – another 6GB RAM / 128GB storage phone with competitive performance and features for $400 less.
No images
ALSO READ