Huawei tops Apple to take over second place among smartphone manufacturers in Q2
54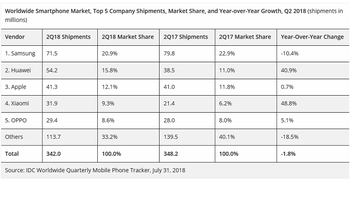 According to the latest data from research firm IDC, Huawei shipped more smartphones than Apple did during the second quarter. That allowed the Chinese firm to leapfrog over Apple to become the second largest smartphone manufacturer world-wide from April through June. With 71.5 million units delivered during the second quarter, Samsung remained on top despite a year-over-year decline of 10.4% in shipments. Samsung had 20.9% of the market during the quarter. Still, its worth noting that the
Samsung Galaxy S9
is performing worse than its predecessor.
Despite not shipping its best phone (
Huawei P20 Pro
) to the U.S. because of national security fears, Huawei shipped 54.2 million smartphones globally in the three month period. The 40.9% year-over-year gain took the company's global market share from 11% to 15.8%. Apple reported shipping 41.3 million iPhone units from April through June, a small .7% increase. The iPhone had 12.1% of the market world-wide during the second quarter.
You might think that of the top five manufacturers, Huawei had the best year-over-year improvement in smartphone shipments in the period, but you'd be wrong. Xiaomi delivered 31.9 million phones during the three months, a 48.8% gain from last year's tally of 21.4 million units. Xiaomi's market share was 9.3% in the quarter. Rounding out the top five was Oppo. The latter saw its smartphone deliveries rise 5.1% from 28 million handsets in 2017's Q2, to 29.4 million during the same time frame this year. Overall, 342 million smartphones were shipped world-wide during the second quarter, down 1.8% from the 348.2 million delivered during last year's second quarter. Smartphone shipments have now declined for three consecutive quarters.
Recommended Stories