Huawei Mercury hands-on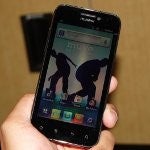 When we think about prepaid smartphones, they normallyconsist of plenty of low-end devices that are made to complement theinexpensive nature of the service. However, when it comes down to reasonablyspec'd high-end stuff, they're sparsely found anywhere. Well, if you happen tobe a Cricket Wireless customer, you might be interested in the Huawei Mercury,which seems to be the best thing for the carrier.
Why's that you ask? For starters, its specs sheet islittered with plenty of exciting stuff that makes it stand head above the wateragainst most things. Checking it out for the first time, it has a shinypolished look thanks to its glossy plastic casing, but as we know, it tends toget dirtied very quickly by smudges and fingerprints. Nonetheless, itcontributes to a super lightweight feel in the hand, while still feelingextremely compact in the hand. Another item that stands out from an initialonset is the pleasant looking 4" FWVGA (480 x 854) LCD display it's flaunting.Indeed, it's not the highest resolution out there, but combined with its screensize, it still provides from some clear details – while delivering some naturallooking colors.
Under the hood, its single-core 1.4GHz processor seems towork effectively with the 3D-like effects found with the custom UI it's running ontop of Android 2.3 Gingerbread. As for the rest, it features an 8-megapixelcamera, VGA front-facing camera, 1,900 mAh battery, Bluetooth 2.1 with EDR, andWi-Fi. In terms of pricing, it's up there at $249.99 no-contract. Certainly, itmight make some people cringe at first, but when you look over the rest of theselection on Cricket's lineup, there's good reason why it's where it is.