Huawei MediaPad starts tasting ICS updates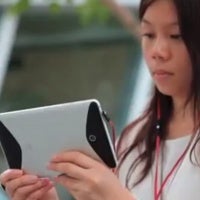 The
Huawei MediaPad
is one of the many lucky tablets to get Android 4.0 Ice Cream Sandwich, a huge update over Honeycomb and you can get it now. The 7-inch tablet along with its variation in the form of the T-Mobile SpringPad are up for update, but you might want to equip yourself with a solid Wi-Fi connection and some patience as you'd need to download a hefty 328MB for the whole thing.
Ice Cream Sandwich will wipe the carrier specific stuff on the Springpad, so that's one thing you should take into account before updating. Otherwise all the neat additions coming with ICS are aboard the update including the new camera menu, the gallery and Google strong suite of apps.
Huawei warns that it has tested the update only in limited markets, "Zealand, Singapore, Bengal, and Australia," as a disclaimer in case something doesn't work, but most reports agree that the update is rolling out successfully on all Huawei Mediapads.
Hit the source below for the tiny details and the update itself.