How to watch Super Bowl LI 2017 streamed live on your Android, iPhone or iPad
13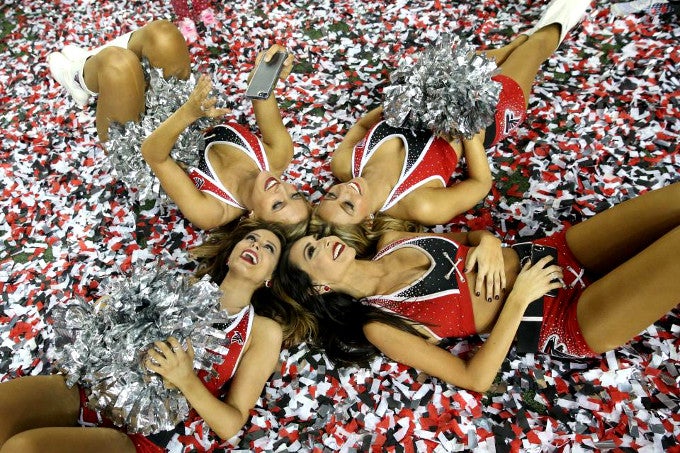 Atlanta Falcons cheerleaders celebrate making it to the Super Bowl LI
Download the Fox Sports GO app with exclusive 360 camera footage: Android | iOS
Just like CBS last year, FOX Sports is making it very easy to watch the Super Bowl streamed live online to your viewing weapon of choice, as it will be showing the game directly on its website for all fans willing to tune in on their TV or computer. This season's Super Bowl will be broadcast on FOX and the FOX Sports GO app with announcers Joe Buck and Troy Aikman providing live commentary for their fifth Super Bowl in a row. Erin Andrews will be reporting from the field on the sidelines, and it will be all streamed to most every gear with a screen you have lying around the house. Here are all the details:
What
: Super Bowl LI (or the 51st game in Roman numerals)
Who
: New England Patriots (14-2 in regular season) vs Atlanta Falcons (11-5)
Where
: NRG Stadium in Houston, home of the Texans
When
: Sunday, February 5th, at 6:30pm ET/3:30pm PT
Entertainment
: It's Lady Gaga this year. The known artists are New Kids on the Block, Up With People and a magician named Elvis Presto, but there will surely be surprises. Before the game, Phillipa Soo, Renée Elise Goldsberry and Jasmine Cephas Jones, from the original cast of "Hamilton," will perform "America the Beautiful," the national anthem covered by Luke Bryan.
Bear in mind that FOX will dedicate the whole day on the Super Bowl LI coverage, so if you want to tune in much earlier with Bud, chips and salsa, as usual, here is the channel's Super Bowl coverage schedule for game day:
Road to the Super Bowl
: 11 a.m. to 12 p.m. ET
An inside look at the best teams and moments from the 2016 NFL season with exclusive footage and mic'd-up players.

Skip and Shannon: Undisputed Super Bowl Special
: 12 p.m. to 1 p.m. ET
Skip Bayless and Shannon Sharpe debate the day's hottest sports topics, previewing the big game from Houston.

FOX Super Bowl Kickoff
: 1 p.m. to 2 p.m. ET
Analysts Colin Cowherd, Dave Wannstedt and Charles Tillman get you ready for the Super Bowl with host Charissa Thompson, analyzing matchups and predicting the biggest game of the year.

FOX Super Bowl Pregame
: 2 p.m. to 6:30 p.m. ET
A Super Bowl-edition of the No. 1 NFL pregame show, featuring co-hosts Terry Bradshaw and Curt Menefee, as well as analysts Howie Long, Michael Strahan and Jimmy Johnson. NFL Insider Jay Glazer also joins the show for the latest news and scoops from around the NFL, while Mike Pereira provides insight as a rules analyst.