How to get an iPhone-like keyboard on Android
21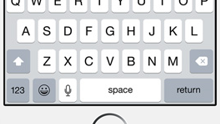 Please note: this is a tutorial for inexperienced users (beginners).
Apart from the standard keyboard that your Android smartphone comes with, there are plenty of
other
great third-party keyboards available on Google Play. But what if you want an iPhone keyboard on your Android device (maybe because you're new to Android, and you're only used to typing on an iOS keyboard)? Well, you can certainly get a third-party keyboard that simulates the iOS experience.
The first place to search for an iPhone-like keyboard for Android is, of course, Google Play Store. Simply searching for "iPhone keyboard" will yield quite a few relevant results. For our tutorial, we used the iPhone Keyboard Emulator (Free) developed by Sixgreen Labs Inc.
Once you've chosen, downloaded and installed an iPhone-like keyboard, access your Android device's Settings menu, and go to Language & input. Here is where you should be able to see the new keyboard listed alongside the default Google Keyboard. You need to enable it by checking the box on its left, then you need to make it your device's default keyboard (the steps are shown in the slideshow below). After that, you're done: you now have an Android device that uses an iOS-like keyboard. Needless to say, the new keyboard will appear everywhere you want to type something - messaging, browser, email etc. That is, unless you change the default keyboard back to Google's (or decide to try another third-party keyboard).
reference:
Google Play