Android keyboard app shoot-out - Fleksy, Minuum, Swiftkey, and Swype battle for glory
26
Installing a custom keyboard app is a coming-of-age ritual for every Android user who's tired of functional, but limited stock keyboards. With the Google Play store becoming home to an ever increasing number of third-party keyboards, and iOS 8 strapping up to get them very soon, we felt it's time to hold a bloody, dusty spaghetti western shoot-out between the four most popular keyboards in the Android community. We're talking about Minuum, Fleksy, Swiftkey, and Swype - keyboards that represent the past, present, and future of touch-screen typing.
We will do a quick check-up of each contestant from four angles - look and feel (how nice it looks and behave), control efficiency (how efficient we felt its input methods are), typing efficiency (how well it performs in actual typing, and misc features (what else it offers besides, you know, keyboard-ing). Then we'll hand them the guns, throw them in the arena, and award the last keyboard standing in each category. Let the games begin!

Fleksy has come a long way since it first appeared on the Apple App Store in July 2012, in the form of a stand-alone keyboard app.
We reviewed it
about a week ago, and we were left with very positive impressions off this agile little keyboard. Let's give it another look, then!
1. Look and feel

Fleksy has a modern, minimalist design. It doesn't look like a traditional keyboard, as there are almost no keys to speak off. It's more of a board with the letters drawn on it. Thanks to the spaciousness and good choice of font, having no graphical separation between the letters isn't a problem at all. Fleksy's look can be customized with a choice of 12 color schemes in pleasant muted colors, while the keyboard can be switched between 'Original', 'Small, and 'Tiny' modes with simple two-finger vertical swipes. While Fleksy's no-frills look can come across as bland, others will certainly appreciate the simplicity.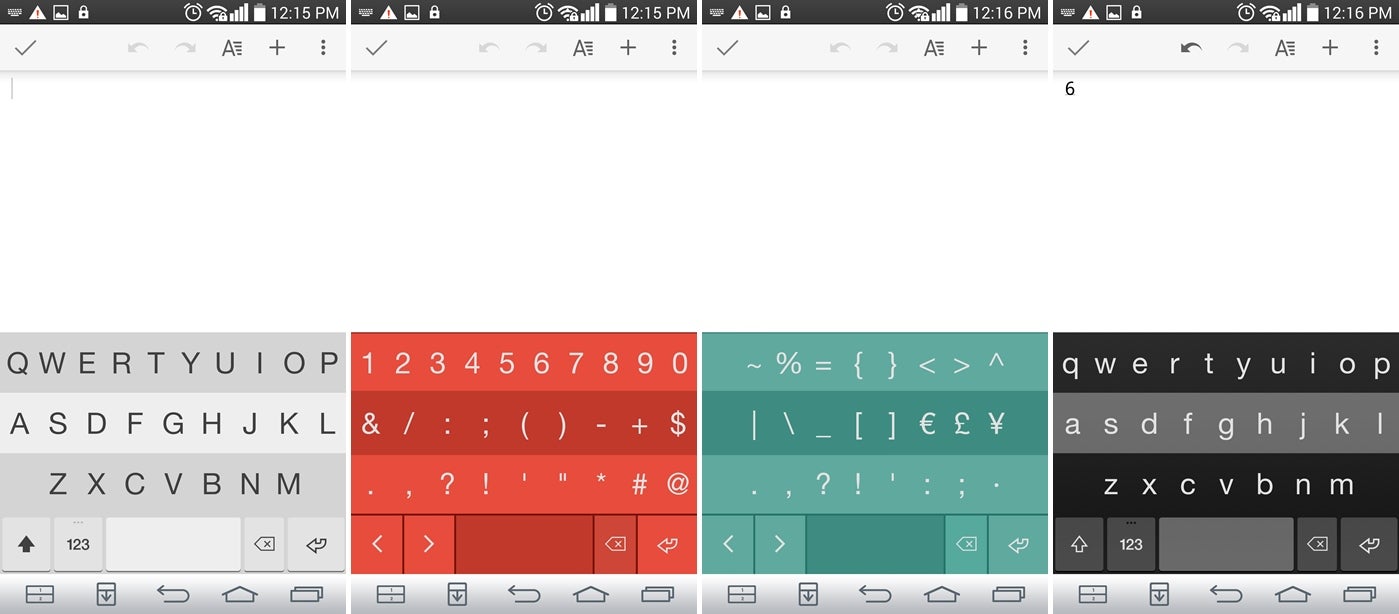 2. Control efficiency

Unlike keyboards that employ swiping and voice dictation, Fleksy is all about hitting letters and doing the rest with gesture controls. The gestures are well thought out, as they grant you almost complete control even when the keyboard is in mini-mode, which excludes the space-bar, 'backspace', and 'enter' keys. Quick flicks, drags, taps, and holds in four directions let you access symbols and numbers, simulate space and backspace buttons, shift letters, replace words, and add punctuation. The system does have a learning curve, but it's not overwhelming. If you happen to fall for Fleksy, getting used to it will happen naturally with usage, and it will pay off. But you can simply use the traditional buttons if you will.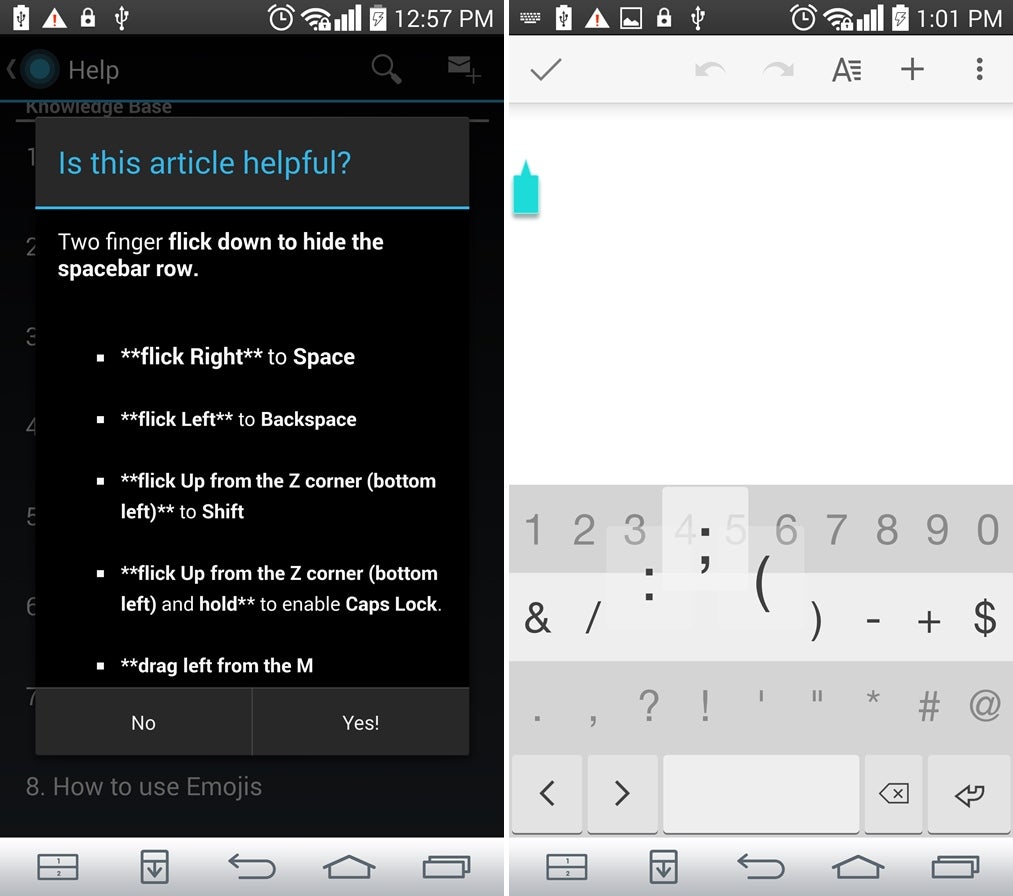 3. Typing efficiency
Fleksy currently holds the Guinness World Record for the fastest software keyboard in the world. It employs a number of engines to maintain its royalty. For starters, it integrates with your Gmail, Facebook, Twitter and text messages to extract the names of your contacts and discover new words related to those you usually type. Second, Fleksy takes into account both the characters you type and the pattern your fingers tap-danced to get to them, which means the app can guess which word you intended to type even if you punched in all the wrong letters. Finally, the app has substantial dictionaries and is eager to learn new words from you in case it fails to come up with the right AutoCorrect suggestion. Of course, a customizable dictionary is a staple of all keyboard apps.
In practice, Fleksy performs superbly in writing plain text. The word replacement accuracy is amazing most of the time, but the app doesn't fare as well in understanding more 'colorful' text containing unusual or jargon words, and there are some problems with auto-correcting names. Those from your contacts will be recognized by the app, which should be enough anyway, but manually adding names to the dictionary so they don't get auto-corrected is something you might resent doing. Then again, this is a burden of most predicative keyboards, and a complex problem to solve of its own. Still, for jotting down quick messages, emails and statuses, Fleksy is reliable and lighting-fast. And besides, most of the times you can just swipe up, and the word you didn't want auto-corrected will return.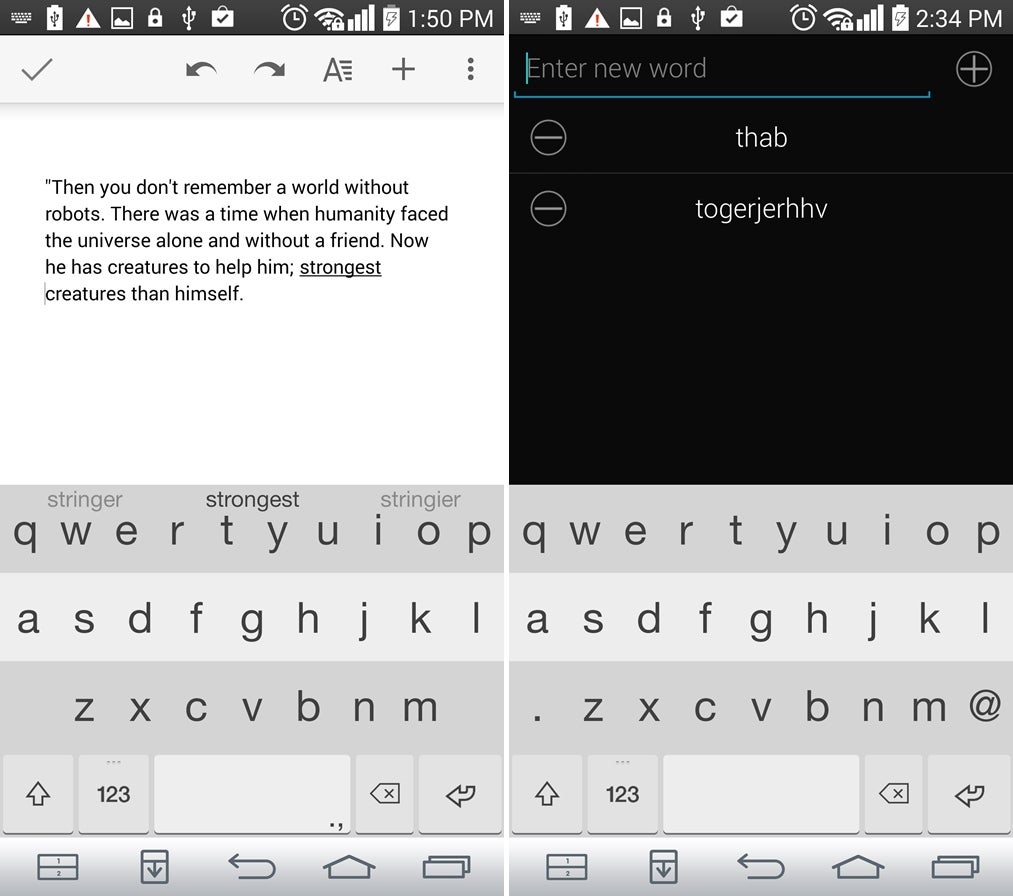 4. Misc features
Fleksy stands out with a good selection of extra features. Along with the already mentioned social network personalization and typing engines, it has a comprehensive knowledge base, a built-in Guinness World Record challenge, a gamification system which rewards your typing efforts with badges, and the oddball 'Invisible Keyboard' feature which lets you type visible words on invisible keys. The badges are brilliant and add a lot of positive mood to the experience. There are also over 600 emoji to portray your abstract emotional states, along with plenty of options for customizing the keyboard's responsiveness and functionality to suit your needs.