How to activate the 'Write on PDF' functionality for Galaxy Note 5 on Verizon
6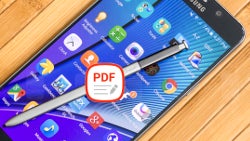 Not long ago, Samsung filed a patent application with the USPTO for a feature that allows to edit PDF documents directly on a smartphone screen with your handwriting. The option is called Write on PDF, and apparently consists of "
computer application software for mobile phones, smart phones, tablet computers, portable media players and handheld computers, enabling users to annotate and save PDF documents, images and files
."
At the time, it was thought that the feature was meant to make a cameo during the announcement of the
Galaxy Note 5
phablet, prompting speculation that we might see an upgraded S-Pen stylus with new features to be taken advantage of. Well, the Note 5 unveiling came and went then, and it indeed had the usual direct screen write function that this time included PDF files. You no longer had to first take a picture of them (or use a screenshot for the ones already in), and then unleash your doodling might on the unsuspecting PDF file.
The Write on PDF feature, however, was only available for the Note 5 versions that are not on Verizon, so Samsung decided to take the matter in its own hands, and wiggle its way into enabling the feature on the sly. Here's what you need to do to activate it:
2. Install it on the phone, as the app now supports Verizon's model, and fire it up;
3. Once the app it installed, the Write on PDF option will be enabled on your Verizon Note 5, and you can easily scribble on, annotate, and otherwise edit away with the help of the venerable S Pen stylus.