How much cooler can Street View get? Google adds abandoned Hashima island to their list of roads taken
8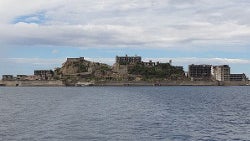 We love technology at PhoneArena. What may be less obvious, though, is our kink for technology used in unusual (and awesome!) ways. Lucky for us, time and time again, Street View has provided –
from swimming with turtles
to
sightseeing in Antarctica
. The latest conquest of the Street View team comes from the good people of Google's team Japan who took an
eerie walk through Hashima
, the derelict island a short trip from Nagasaki.
Until 1974, when it was abandoned, the remote isle housed some 5000 people, mostly coal miners and their families, when the Japanese government took steps to break away with the outdated form of energy production as petroleum replaced it. Disposed of and uninhabited, the island is fighting a losing battle with nature, keen to reclaim its former domain.
Too dangerous for stray civilians to explore, the Japanese government opened the site as a tourist attraction in 2009. With many areas off limits, Google Japan employees apparently found a way to forgo the strict discipline of supervised visiting groups. They were, therefore, able to freely roam the remnants of the town and lived to
show
you the story thanks to Google's wearable Trekker camera.
Enough talk, we now invite you to glimpse through the gallery below and if it sparks your interest – make sure to take a look at the 'making-of' video underneath.