Google Maps' Street View goes underwater
24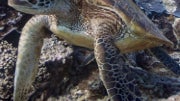 It looks like the next frontier for Google Maps' Street View will be the depths of the oceans and seas. The company has already released the first areas that can be explored in a 360-degree panoramic view, and we've got to say - they look quite impressive!
Google has partnered with The Catlin Seaview Survey and has managed to secure a very special Seaview SVII underwater camera. And when we say it's special, we mean it - there are only two units of this camera in existence right now. It's capable of taking one 360-degree shot every three seconds, along with geo-location and camera direction data.
Currently, Google has covered six locations found in the Philippines, Hawaii and Australia. As you can imagine, there's very long road ahead of the Google Maps team, by looking at these first shots, we're more than certain that this giant effort is worth it.
You can start your underwater journey right now, by visiting
this address
.
via:
SlashGear