House of Marley Riddim On-Ear Headphones hands-on
4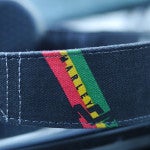 If you haven't noticed it yet, there's a big business out there surrounding headphones, as many people are sporting some kind of cool looking pair – such as those from Beats Audio, Soul, and
House of Marley
. Well, if you're a fan of the legendary reggae musician, you'll be glad to know that we're digging one of the latest set of on-ear headphones from House of Marley.
Already, we've had the opportunity to check out some of their premium models in the
Redemption Song
and
Destiny Series
, but this time around, it's the slightly lowered priced
Riddim On-Ear Headphones
that we're putting through the paces. With this wired pair of headphones, we're digging its
super comfy feel
, which is attributed its ultra soft leather headband and ear cushions. In fact, the ear cushions are large enough to encompass our ears – thus, it doubles as a great pair of ear muffs too in the cold. And seeing that the aluminum banding is adjustable, it always provides a tangible amount of support while wearing them, which never feels too loose or tight.
In addition to the awesome styling and satisfying feel, its
40mm dynamic drivers
pump out dreamy tones that are robust and clean. Heck, even at the loudest volume setting, it maintains a high level of output that never seems irritating to the ear. Rather,
deep bass tones
effectively complement each beat of the drums to engulf us in a sea of vigorous tones. On top of that, since the fitting of the Riddim is sufficient, its
noise-isolation properties
enable it to mute nearly all background disturbances. Fittingly, they make for the perfect voice calling experience too!
Compared to some of House of Marley's other models, which easily start at $200, the Riddim is a bit below at
$159.99
– with many styles to pick out. Combining its impeccable fit and stellar audio quality, the House of Marley Riddim On-Ear Headphones won't disappoint! Heck, like we said already, they also make a great pair of ear muffs in this cold weather.
More House of Marley Headphones to check out