House of Marley Destiny Series over-the-ear headphones hands-on
3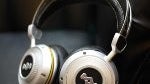 They're everywhere you turn people! Whether you're at a cafe sipping on a coffee or sitting idly on the train ride home from work, you've probably seen someone sporting those stylish looking over-the-ear type of headphones – like Dr. Dre's set of Beats headphones or those from Loudarcris' SOUL line. Well folks, you'll want to add yet another name to the growing list –
Bob Marley
!
You heard right, we're checking out the
House of Marley Destiny TTR Series over-the-ear headphones
, which are currently being sold through the Apple Store. Set at a bank busting price of
$299.95
online, it's sure to drain your hard earned money, but to tell you the truth, there's a lot to look forward to this Earth-friendly pair of headphones.
For starters, it's constructed out of
premium choice of materials that are eco-friendly
at heart, while still delivering some soulful tones thanks to its
40mm dynamic moving coil drivers
. Throw in its own
active noise-isolation technology
, there's nothing that'll take your attention away from your playing music.