Hit the road, Jack: Best Android apps for summer travel and vacation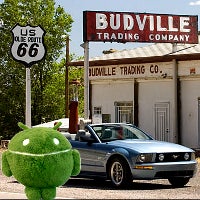 It is the season for traveling, vacationing and frustration if you are stuck in the office for the summer. Whether you plan on visiting London for the Olympics, take the kids down Route 66, or simply drive over to that spa retreat for the weekend, Android has you covered.
From apps that help you pack, through crowdsourced gas price monitoring, to the best flight and hotel last minute deals, there are apps for everything you might need and things you didn't even think of, like talking foreign language translators to carry with you offline, and get along better with the locals.
We've rounded up a few of those for you in the slideshow below, in the hope they help with planning your summer travels. Sound off in the comments on other cool travel apps you've come across lately.