Here is where around your home an iPhone is most likely to be damaged
25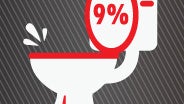 One of the last sounds that an iPhone owner wants to hear is the sound of their iPhone shattering after a fall to the floor. Sadly, quite a few of them likely know how that feels like: it is estimated that
about 3 in every 10 iPhones have been damaged one way or another
, according to data provided by
SquareTrade
– a company offering protection plans for various of our pricey gadgets. Care to learn more facts about iPhones and where they suffer damage most often? Then read along as we go over this neat infographic.
So if you've ever dropped your iPhone in the toilet, rest assured that you're not alone. In fact, about 9% of iPhone owners have done it, according to SquareTrade. As a whole, about 16% of all iPhone-related accidents that take place at the user's home occur in the bathroom. And what's also pretty interesting is that 5% of those who own (or once owned) iPhones were unfortunate enough to put their smartphone in the washing machine by accident.
Want to learn even more? Then the entire inforgraphic is available below. Feel free to check it out, and in case your iPhone has also been damaged accidentally, do not hesitate to share your story with us down in the comments.
source:
SquareTrade
via
Mashable