Here are the first ads for the Samsung Galaxy S4
99+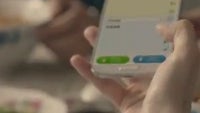 The
Galaxy S4
continues surprising us as even after we got our review unit based on the Snapdragon 600 chip, Samsung outdoes itself in the Exynos 5 Octa version of the handset delivering
even better results
. But it's not just about number crunching and geekery - it's mostly about daily experience with the device, the feature it has and the inspiration it brings.
That's what Samsung is focusing on in the new Galaxy S4 ads that are starting to hit the world and we have the first three ones.
In them Samsung shows different features of the S4 like the pictures with sound or the group play, or the S Translate function. Some of those novelties seem pretty neat, others are arguably gimmicky, but it's up to you to decide whether you like them or not.
And here are the 30 second ad spots for the Galaxy S4 that will soon air on your TVs.
source: Samsung via
Android Beat