Exynos-based Samsung Galaxy S4 benchmarks surface, head and shoulders above Snapdragon competition
82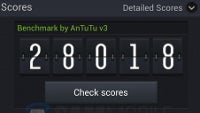 By now you probably already know that the Samsung Galaxy S4 comes in two versions.
The first one will ship in the United States and most of the Western world equipped with a Snapdragon 600 quad-core chip. There is also another one for most of Asia and the rest of the world featuring Samsung's own Exynos 5 Octa chip.
SamMobile has now done the inside digging to find out that right now there are 3 Galaxy S4 models:
GT-I9500 – Exynos 5 Octa 1.6 GHz without LTE
GT-I9505 – Snapdragon 600 1.9 GHz with LTE
SHV-E300S – Exynos 5 Octa 1.8 GHz with LTE
What is particularly interesting though is that for the first time we are getting to see the Exynos 5 Octa-based Galaxy S4 benchmarked and the results are much higher than what the Snapdragon 600 S4 yields.
A GT-I9500 Galaxy S4 with Exynos 5 Octa scores 28 018 points on popular synthetic benchmark AnTuTu, while Snapdragon 600 GT-I9505 model gets varying results but definitely lower in the vicinity of 23 to 25 000.
What's even more exciting is that the Korean version should be the first phone to score over 30 000 points and become the world's most powerful smartphone. This of course won't make much of a difference in daily use for most users, but Korean nerds will definitely have the most to brag about.
source:
SamMobile