Haunt the House: Terrortown lets you possess objects and scare people... without being evil
1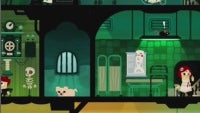 Developer SFB Games announced that its game Haunt the House: Terrortown will come to Android and iOS in time for Halloween. The colorful, cartoony game has you play as a ghost that haunts a house and wants to chase away its residents. No ghostbusting this time around! But since you are an invisible ghost, you have to get creative to be actually scary. Thus, you possess inanimate objects and go to town.
You can slam doors shut in front of the confused guests, make the lighting flicker, pull plant pots off shelves, and many more shenanigans. Each room you enter offers different ways and tactics to scare the bejeezus out of everyone. There are different characters in the game, some much braver than others. Clowns and nurses, for example, aren't easily impressed by mundane ghostly stuff such as rattling windows. You must nail the right way of spooking them into leaving the house, otherwise they'll just go to another room and recuperate.
Haunt the House: Terrortown features a fluid animation style that's rich with detail and color. Watching the game in action is a joy, and a high-resolution screen will really bring the quality artwork to life. It might be best to have a tablet lying around if you want to get the most of it. As said, the game will land on Android and iOS around Halloween.