Has Apple lost its mojo? (poll results)
99+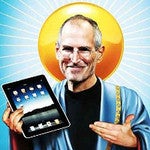 Has Apple lost its mojo?
The question first started appearing as the realization came that with Steve Jobs Apple jost more than just another chief executive - it lost a leader and a visionary. The first months of its successor, Tim Cook, were extremely successful. Share value hit all-time highs, but then came a sudden drop.
Android started taking over the world by a storm not just with quality, but with profit. While previously Apple could claim the highest profits in mobile, now Samsung approached it very close. Not just investors - pundits started wondering whether Apple has lost its mojo.
The latest Apple event was a litmus as everyone was watching closely what Apple announces. There were no surprises. The leaks that have been pouring from all sides for months on end all turned out true. There was a higher-end iPhone 5s with a fingerprint sensor included and better camera, and a colorful plastic iPhone 5c. The 5c was cheaper, but not cheap at all, maybe that was the one surprise.
Investors weren't impressed and Apple shares started going down after the unveiling. And now we can see what our most important public thinks. Has Apple lost it? It seems that this time most of you agree: yes. An overwhelming nearly 90% saw the September Cupertino event as a sign that Apple now lacks that magical aura it once had, and only 10% think the team led by Tim Cook has still got it. Take a look at the results right below.