Hands on with the LG Rumor 2
1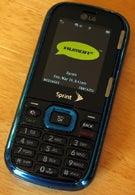 The Rumor 2 is available through Sprint today and Alltel's Banter was put on sale earlier this week, upgrades to the Rumor and Scoop respectively. The main difference between the original is that the 2 upgrades to a QVGA display and offers an extra row of keys for dedicated numbers. Overall the features are the same:
1.3
megapixel camera, microSD expansion and 1xRTT data. The device will again be aimed at the teenage crowd, as evidenced by the vibrant teal finish on the Sprint unit. The entry price point of the Rumor 2 is $49.99 after rebate and contract, which puts it squarely against the better endowed Samsung Rant. The original Rumor was plagued with numerous problems, and with the higher price tag our initial impression is that LG will be fighting an uphill battle with Samsung on this one but perhaps LG has some surprised in store for us.


Stay tuned for our full review on the LG Rumor 2!
LG Rumor 2 Specifications