Half the U.S. is now connected via a smartphone or tablet, mobile penetration booming
4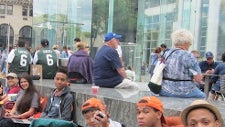 Half of all adults in the United States can now access the Internet via a smartphone or a tablet. That percentage has grown significantly in a boom of mobile device adoption, according to the latest research by the Pew Center.
Most impressive is the growth in tablet users. 22% of adults now own a tablet, and that's nearly double last year's number. An additional 3% regularly spend some time on a tablet someone else at home has, bringing the total to 25%, or a quarter of U.S. adults.
For smartphones, the penetration is higher and now 44% of adults own one, up from 35% in May 2011.
The whole research was conducted in relation to how users read news, and interestingly it turns out that having a mobile device by your sides stimulates users to
read longer stories
. Also, not surprisingly, people don't want to pay for subscription services and less than a quarter would trade their print subscription for a digital one. Check out a summary of the findings at the source below, and let us know - do you read more or less on your smartphone and tablet?
source:
Pew Research Center