HTC to give Vive app developers 100% of app revenue for the rest of 2017
9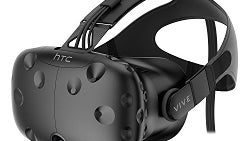 No sooner has
HTC made a deal with Google that will fill its coffers with $1.1 billion
and increase the importance of the Vive VR system to the company, the Taiwan based manufacturer is trying to get developers to lower prices for apps developed for the VR headset. Instead of keeping 30% of app revenue related to the product, HTC will take a 0% slice of app revenue, which means that the developers will keep 100% instead of their usual 70%. After December 31st, 2017, HTC regains its 30% cut.
HTC is hoping that lower priced apps results in higher sales of the Vive system. And do not discount the timing. HTC is putting the carrot on the stick of these app developers just before the holiday shopping season begins. Both the Vive itself, and individual apps, could be found under Christmas Trees and inside Chanukah gift boxes this year. The Viveport Store opened last year and the number of apps available has soared from 60 to over 1,000. 26,000 developers have signed up.
HTC is also allowing arcade operators who charge customers for the hourly use of the HTC Vive, to keep 70% of the revenue generated by arcade sales for the remainder of this year. Previously, the gross was split 50-50. The Viveport Arcade Manager has been in trials in 15 countries and now allows arcades to offer over 700 titles. Additionally, a new Viveport Scene SDK is being offered to developers. The kit will enable them to create effects that get users interested in trying out a certain game or app.
"The holiday is the most important time for developers, and we want to show our appreciation for them...This is a super exciting time. There is so much content out there, with a total of 2,000 titles on the platform around the world."-Rikard Streiber, senior vice president of virtual reality, HTC
As we told you last week,
HTC is working on a stand alone version of the Vive called the Vive Focus
. Unlike the original Vive, the Vive Focus doesn't need to be connected to a computer, and is powered by the Snapdragon 835 chipset. In the U.S., the Focus will support Google's Daydream VR platform. We could hear more about this device on October 4th.
source:
VentureBeat