HTC confirms that European HTC Hero will get Android 2.1 at the "end of April"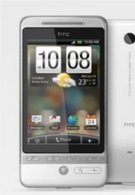 Time sure does go by quick because it was roughly a year ago when the European version of HTC Hero rolled onto the scene and breathed in a fresh air for Android thanks to its Sense loving Ui. Now things are yet again looking rosy for this original starter as Android
2.1
is nearing for sure thanks to a confirmation from HTC themselves. HTC said, "Some of the phones in our Android line up including your Hero are due to receive an upgrade, and it is scheduled to be released starting at the end of April. Your phone should be upgraded Over-The-Air. You can expect a pop-up message on your phone when connected to the internet once it is ready. When the upgrade is ready, we will notify you via our website and on various social media networks including Twitter and Facebook." We've been witnessing the
rush of news
regarding current Android smartphones being upgraded to the latest version of the platform – it's quite refreshing to see most devices getting the much needed treatment. There might soon become a day when
fragmentation
will no longer pose any serious threat to any potential Android buyers out there. So for those who managed to repel the temptations being offered by something like the Nexus One or Motorola DROID, owners of the European version of the HTC Hero can look to play on the same level shortly.
HTC Hero Specifications
|
Review
via
EuroDroid