HTC breakaway company Kazam announces its first 7 Android phones
23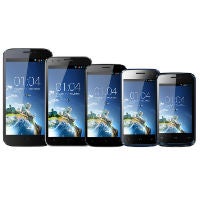 Earlier this year, a number of former HTC executives decided to start up their own smartphone manufacturing company, called
Kazam
. The idea was to offer "stunning design, robust hardware, and intuitive technology, underpinned with improved customer service." Now, the company has announced its first seven smartphones, all of which run Android.
None of the devices appear to be "top tier" by any measurement, but the high-end offerings from Kazam (which are low-end by most standards) will carry the Thunder name. The Kazam Thunder Q4.5 will offer a 4.5-inch display with a 854×480 resolution, a 1.3GHz quad-core SoC, 1GB of RAM, an 8MP rear camera, and just 4GB of storage, although it will offer expandable storage via a microSD card slot. There will also be a Thunder Q5.0 in the future, but the specs haven't been announced on that yet.
The lower-end line will be the Trooper X3.5, X4.0, X4.5, X5.0, and X5.5. You can guess the screen sizes from the numbering scheme, and the resolutions range from just 480x320 for the X3.5 to 854×480 for the X5.5. On the low end, the devices will have dual-core 1GHz SoCs, and the upper range bumps that up to a dual-core 1.2GHz SoC. All of the devices be dual-SIM capable and have 4GB of storage and 512MB of RAM and run Android 4.2.
Where Kazam really wants to make its mark is in customer service and for that, the company is offering a one-year warranty on all devices, and will even replace your device if you drop it and break it. No word yet on pricing or availability.