HTC Zoe will be available to non-HTC smartphones this week
20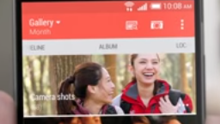 Back in March, when HTC launched the
One (M8)
, the company said that it would
bring its BlinkFeed and Zoe apps
to non-HTC devices later this year. Well, HTC is now almost ready to do that: according to Re/code, Zoe will be released this week, via Google Play, to Android handsets made by other manufacturers - Samsung, LG, and the rest of HTC's competitors.
The Zoe app will be launched by HTC Creative Labs, a separate business unit that HTC set up not long ago. Led by Drew Bamford, HTC Creative Labs consists of 260 HTC employees based in Seattle, San Francisco, and Taipei. Essentially, this is HTC's software arm that could help the company better compete with giants like Apple and Samsung.
For those who don't know, HTC Zoe creates short clips using your photos and videos, even allowing you to add soundtracks to clips. You can see an official Zoe tutorial in the video below:
Reportedly, HTC aims to build an audience for Zoe first, and then search for ways to generate profit from it. Would you use Zoe on your non-HTC smartphone? Let us know in the comments!
HTC didn't say when BlinkFeed would be available to non-HTC devices. However, Drew Bamford confirmed that HTC Creative Labs was working on other software projects - and we'll likely hear more on this soon.
sources:
Re/code
,
Drew Bamford
(Twitter)