HTC Touch – iPhone's most serious rival
0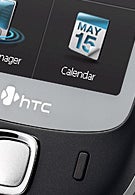 HTC just announced the new Touch, which is based on the "Elf" platform but comes with HTC's new technology, called TouchFlo which gives "unique" user experience, based on moves you do with your finger or stylus, touching the phone's 2.8" QVGA display. This motion control is similar to the interface that Neonode use in their N2 model, and although it doesn't support multi-touch, is definitely a rival of the iPhone, which AT&T will offer on June 29. Similar to the iPhone, the Touch is 2G phone (not 3G) with WiFi, which limits it to rather slow data speeds using the carrier's network, but connecting to local wireless lans will allow you for higher transfers. It has 2-megapixel camera, microSD slot for memory, Sterep Bluetooth and runs on Windows Mobile 6 Professional.
The HTC Touch is now available for purchase in UK and will be available in more European countries before the end of the Month. It will arrive in America in the second half of the year. Its sim-free price now in the UK is about J320, which is approximately US$635
Expect our HTC Touch Review next week!
Visit
HTC Touch
's webpage to see demo of its software.