HTC ThunderBolt to be offered for free from Verizon?
14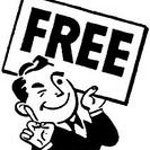 Now that the latest Verizon promotion on the HTC ThunderBolt expires at the
stroke of midnight
, that would mean that the marketing suits at Big Red need to come up with the next brilliant idea on how to market the LTE enabled device. According to a leaked screenshot of the new Verizon web site, Verizon customers could be in for some
huge savings
.
If the leaked picture is legit, it would appear that Verizon is breaking one of the rules of nature that should not be tampered with, sort of like "Don't cross the streams". Without a new model introduced, Big Red is apparently ready to
discount the 16GB Apple iPhone 4
to $150.99 from the current subsidized price of $199.99. But wait, there's more. According to the screenshot, the LTE enabled HTC ThunderBolt would be discounted to the low, low, low price of...zero! Both deals would require your signature on a 2 year contract.
The value of phone updates is certainly high these days with amazing dual-core models and 3D handsets being launched. Verizon customers have been holding on for the Motorola DROID Bionic, which we
reported
on Monday could be rolled out on August 4th. Do you use your update for a free ThunderBolt, or do you hold on to see what the
final form
of the DROID Bionic will look like?
Other smartphones shown in the ad include the BlackBerry Bold 9650 for $99.99, a CLN Motorola DROID X for $99.99, and the Motorola Citrus for $14.99. One accessory, the Plantronics MX200 Universal earbud headset would be cut in price to $19.99.
There is no word when this sale will take place, but the chance of getting an HTC ThunderBolt for free should certainly get your adrenalin flowing.
source:
VZBuzz
via
DroidLife