HTC Radar 4G Hands-on
6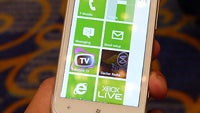 Across the big pond, our friends are able to experience all the lovely aspects with the Mango flavored
HTC Radar
, but it won't be too long before T-Mobile customers will have the fine opportunity of checking it out as well. Even though we're in the dark in terms of pricing and an actual release date, it's mentioned to be coming out "in time for the holidays." As we continue to see Mango's penetration to other first generation Windows Phone 7 smartphones, the HTC Radar 4G for T-Mobile is being graced with the notion of being the very first 4G enabled Mango handset for the carrier.
Clearly, there isn't much of a difference found with the design of this specific version for T-Mobile, as it retains that lovable sleek and stylish unibody aluminum chassis found in use with the European version. Not surprisingly, we dig its compact and solid feel, which is further complemented by its premium choice of materials. Equally as stunning, we like the bright and vivid 3.8" WVGA LCD display it's flaunting to match its already shining luster.
When it comes to raw processing power, it might not impress people with its 1GHz single-core Qualcomm Snapdragon processor, but it's actually enough to handle all the intricacies found with Windows Phone Mango. Of course, it's made evident by the smooth operation that it exhibits while moving around the platform. Sweetening the deal even further, it's a camera centric device thanks to the 5-megapixel auto-focus camera with LED flash, F2.2 lens, and backside illumination that it's flaunting in the rear.
Lastly, as its name implies, the other notable thing about the handset is the fact that it's the carrier's very first 4G HSPA+ enabled Windows Phone Mango smartphone. Therefore, if you simply tire or don't take fancy with the carrier's first-generation WP7 smartphones, even though we're seeing Mango being pushed out now to more devices, then you might want to keep an eye out for the HTC Radar 4G when it launches. Honestly, just wait for it to pop up on radar.
HTC Radar 4G Hands-on: