HTC One V coming to the U.S. in the summer
4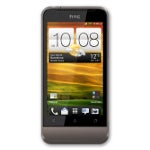 CTIA may be starting tomorrow, but the news are already here! One interesting new piece is that the budget-centric solution in HTC's new One line, the
One V
, is going to arrive at U.S. soil
this summer
. Hooray!
Unfortunately, it isn't disclosed which carriers are going to welcome the One V in their line-ups, but we're being told that the device will become available through "a variety of partners". The HTC One V is a contemporary smartphone with great build quality and fine specs that won't break the bank.
Otherwise, the smartphone features a 3.7" screen with WVGA resolution (252 ppi) and a 1GHz single-core processor by Qualcomm. You can
read our review
of the global version of the One V for all the details surrounding the phone.
source: HTC
HTC One V to Arrive in the U.S. This Summer
HTC One V aims to impress with premium design, amazing camera and authentic sound
First U.S. preview to be held at International CTIA Wireless 2012
New Orleans – May 8, 2012 –HTC, a global designer of smartphones, today announced the global version of the HTC One™ V, part of its highly anticipated HTC One series of smartphones, will be displayed for the first time in the U.S. during the International CTIA Wireless 2012. The HTC One V is expected to be available through a variety of U.S. partners later this summer.
The HTC One series represents HTC's most premium mobile experience with a new level of premium design, amazing camera and authentic sound experience. With the HTC One V, HTC integrates Android™ 4.0 (ICS) with HTC Sense™ 4, the new version of HTC's branded user experience with HTC ImageSense™, a new suite of camera and imaging features that set HTC One apart from other phones. HTC Sense 4 also includes broad enhancements to audio quality and simplifies how people listen to music on their phone.
Amazing Camera
With HTC ImageSense, the HTC One V offers an amazing camera that delivers fast image capture, better image quality under adverse conditions, and an easy-to-use display with side-by-side photo and video capture buttons. The camera can be quickly activated from the home screen and the superfast autofocus enables continuous shooting to ensure you don't miss those special moments.
The 5-megapixel camera with f/2.0 back illuminated sensor, means that more light is allowed into the sensor to capture quality photos in adverse conditions, such as low light, no light or bright backlighting. With HTC Video Pic™, the smartphone is also capable of capturing still photos while simultaneously recording HD video, and in addition, can capture still images during video playback.
HTC Sense 4 also integrates Dropbox, enabling customers to get 25 gigabytes of free Dropbox space for two years - enough to keep more than 10,000 high-quality photos - and makes it easy to edit, save and share photos, videos, documents and other kinds of files. HTC One V also gives an easy way to share photos and videos with family and friends through Media Link HD* which wirelessly sends content from the smartphone to any TV with an HDMI input.
Authentic Sound
HTC One V also provides authentic sound with Beats Audio™ that allows listeners to experience music as the artist intended, creating rich, premium sound experiences whether listening to music, watching a movie, or playing a game. HTC Sync Manager software makes it easy to transfer songs, artists and playlists from a music library on a computer to the smartphone. The new HTC Car Stereo Clip* also allows customers to easily bring their mobile music to their car's sound system.
Premium Design
Utilizing the classic, award-winning design of the HTC Legend, the HTC One V brings iconic design to a smartphone with broad appeal and a premium experience. The timeless, simple aluminum unibody architecture and slightly curved chin allow the HTC One V to fit smoothly in the palm of your hand. The 3.7-inch screen is a delight to the eyes, made out of reinforced glass and is scratch resistant. The HTC One V features a speedy Qualcomm™ Snapdragon S3 1 GHz processor, and is supported by a 1,500 mAh battery.

Availability
The HTC One V will be available in the United States from a variety of partners in the summer of 2012. More information on the HTC One series of smartphones can be found at http://www.htc.com/us/.
Media can view the global version of the HTC One V during International CTIA Wireless 2012 at HTC's Booth # 3519.
About HTC
Founded in 1997, HTC Corporation (HTC) is the creator of many award-winning mobile devices and industry firsts. By putting people at the center of everything it does, HTC pushes the boundaries of design and technology to create innovative and personal experiences for consumers around the globe. HTC's portfolio includes smartphones and tablets powered by HTC Sense™, a multilayered graphical user interface that vastly improves user experience. HTC is listed on the Taiwan Stock Exchange (TWSE: 2498). For more information, please visit www.htc.com.
* HTC Media Link HD and HTC Car Stereo Clip are sold separately.