HTC One M9 for Windows? HTC reportedly working closely with Microsoft on Windows 10
10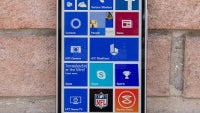 Remember the
HTC One M8 for Windows
? Yep, it's name says it all – it's a
One M8
with Microsoft's Windows Phone 8 platform, not Google's Android, loaded on it. As it turns out, we may very well see HTC repeat that move with the One M9 and Windows 10, though there's no guarantee the company won't go for a lower-end device this time around.
According to a report from
Windows Central
, HTC CFO and President of Global Sales, Chialing Chan, spoke to the crowd at the company's One M9+ launch event in India, claiming that HTC is working closely with Microsoft and is keeping track of how the latter's new operating system "
shapes up and where it fits in the HTC lineup
." As mentioned, and seeing as how Microsoft has mostly been successful in the ultra low cost segment, it wouldn't surprise us if HTC has something a tad less flagship-y in mind this time around.
For HTC to continue its partnership with Microsoft is not surprising – the company has been one of the very earliest adopters of Windows Phone (and the versions before it), and has consistently released products for what is objectively the underdog platform among the majors. Whether Windows 10 can and will change the mobile OS' title of such remains to be seen.