HTC One (M8), the next generation of Tegra, and Galaxy S5 mini rumors: Weekly news round-up
1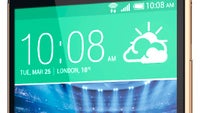 As we always do on Mondays, we've put together last week's most interesting news stories in one place, and the one at the very top of the list is the announcement of HTC's new Android flagship, the HTC One (M8). The phone turned to be exactly the device that we all expected – a model similar to last year's, but with upgraded internals and updated software.
NVIDIA's announcement did not enjoy quite as much media attention, but it does deserve to be on this week's pick. The company announced its next generation of Tegra chips called Erista. The first devices powered by it should arrive next year.
We had a fair dose of rumors as well last week. According to one of them, the Lumia 1820 is a phone that Nokia is working on. Also, a Samsung Galaxy S5 mini and Galaxy S5 Zoom should be coming sooner than later.
To learn more, just follow the links below.