New Moto 360 images show different watchbands and build
40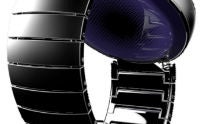 We've already gotten a relatively good look at the
Moto 360
smartwatch, or at the very least we've seen more of it than the LG G Watch. Of course, as we've seen from the G Watch pics, there's a good reason why Motorola wants to show off its efforts more than
LG does
. Now, we're getting to see the Moto 360 in more detail, including the different watchband options.
Motorola has said a number of times that it has learned from its work on the MOTOACTV in building the 360 and that shows through in a number of ways. The 360 is much sleeker and refined, of course that might be expected in the difference between a device designed for sport use and one aiming to be a fashion statement. It also looks like there might be some customization options for the Moto 360 hardware beyond the band, because the back plate is made of colored plastic.
Another interesting thing is that from the pictures, it appears that the plunger on the side of the 360 can turn, just like a classic watch. Motorola has said that it is trying to design a device that will feel at home for those who love wristwatches, but it's hard to glean what a smartwatch would gain from having a winding plunger on the side.