HTC M8 rumors, the Galaxy Grand 2, and the debut of the Jolla phone: weekly news round-up
2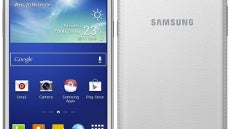 HTC is definitely up to something. There's a rumor floating around, suggesting that the company is working on a new flagship, and the evidence in support of this claim is now piling up. The most recent piece of the puzzle comes in the form of an AnTuTu benchmark score, which likely belongs to the device in question.
In other news, Samsung announced a new phablet, meant to bring the large-screen experience to a broader audience. It is known as the Galaxy Grand 2 and it fits well in the mid-range category, packing a 5.25-inch display, 1.2GHz quad-core processor, and an 8MP camera.
Another noteworthy event from last week is the launch of the first phone by Jolla - a company started by former Nokia employees. What's special about this otherwise low-spec device is that it runs on Sailfish OS, which is a new operating system based on Nokia's Meego platform. While Jolla will surely have a hard time entering the already crowded smartphone market, it will be interesting to see how much of an impact their efforts will cause.