Moto G now available in the US for $179 unlocked and contract free
41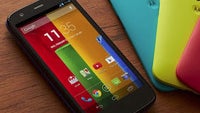 Motorola has just announced on their blog that starting today, the spanking-new budget Moto G is up for grabs in the States for $179 unlocked and contract free. The Moto G is already available through Motorola.com.
It's important to note that we're talking the GSM version here – a CDMA one will not come until January 2014. Moreover, there are two GSM versions – one 'Global' and another that's for the US – difference being that the latter has limited roaming capabilities, so think twice before making a purchase. Also, do keep in mind that the $179 price tag, while compelling, only gets you 8GB of internal storage. Should you wish a more spacious version, you'll have to pay an extra $20, or $199, for the 16GB model.
The Moto G was made available on November 13th in Bazil, and has since been up for grabs in a some parts of Europe and South America, though Motorola promises that the budget phone will be eventually become available in more than 30 countries by early 2014. It sports a 4.5-inch 720p LCD display with a layer of Gorilla Glass 3, a 1.2GHz quad-core Qualcomm Snapdragon 400 chipset and 1GB of RAM. All the shooting will be made available by a 5MP rear camera with an LED flash (see
samples
), along with a 1.3MP unit at the front. Motorola promises that you'll get up to 24 hours of mixed usage out of the Moto G's 2070mAh battery, meaning that this is a charge-at-night type device, though we can certainly let this one slide considering the price.
As you can probably figure out yourself, a 4G LTE radio is absent, though the usual connectivity options like Wi-Fi, Bluetooth 4.0, GPS (+GLONASS) and FM radio have made it through.
Any takers?