HTC Incredible S Hands-on
9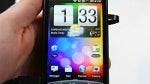 Shortly after the end of HTC's pressevent at MWC, we rushed to get a closer look at the exciting newlineup and the HTC Incredible S stood out with its angular "insideout" design. The first thing that you would notice about the Incredible S is its matte finish and weird shapes on the back.

Thecapacitive buttons are not painted this time and when theback-lighting is off, the device appears to have no buttons. We lovedthis little touch, contributing to an interesting design, which isdefinitely one of the selling points of the device. However the4.78-ounce weight in your hand is noticeable – the handset is a biton the heavy side. It is pretty thick also at 0.46", but overall the buildquality feels solid.
The S in the name could indicate manythings, but to us it is a reminder of the gorgeous 4-inch Super LCDscreen. We liked the deep colors and the WVGA resolution of 480 x 800has become pretty much a standard for larger screens. The IncredibleS will initially run on Froyo, but soon after its launch it isexpected to get Android Gingerbread love.
For all of you vigorously measuring benchmarks,the Incredible S will hardly be the best choice. It has a prettycapable single-core 1GHz Qualcomm 8255 processor along with 768MB ofRAM, but it is hardly a match for the Tegra 2 heavyweights of today.Nevertheless we found Android running without a hitch and in additionyou get the latest of HTC's gorgeous Sense skinning.
The camera enthusiast can count on an8-megapixel snapper equipped with dual-LED flash on the back of theHTC Incredible S. The camera is able to record 720p HD video. A1.3-megapixel front-facing camera is situated on the front making iteasier to make video calls.
Our first impression? The Incredible Sdoesn't offer groundbreaking innovations, but rather more of thefamiliar design of the original HTCDROID Incredible plus an improvement in the spec sheet. HTC'sapproach seems to fit the "if it ain't broken, don't fix it"line, but what do you think?