HTC Grip revealed - a seriously athletic smart fitness tracker!
5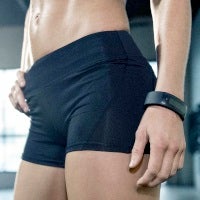 HTC packed an ample bag of cool toys for MWC 2015, and the latest one to emerge is the HTC Grip. Formerly known as the HTC Petra, the new wearable device is one solid-looking fitness tracker! Designed primarily with athletes and fitness enthusiasts in mind, Grip is a combination of HTC's design prowess and Under Armour's sports expertise. The wearable is powered by the UA Record platform, using its sensors to help athletes track their sleep patterns and workout performance.
Grip is a contoured, waterproof band which follows your wrist without pinching your skin, catching onto clothing and equipment, or otherwise becoming an obstacle. It also has an 1.8-inch curved AMOLED display, which shows the time, distance, and notifications. The wearable has a 100mAh embedded battery and lasts up to five hours with GPS turned on, which means it won't be able to track a full Michael Phelps workout, but for the bulk of athletes, it will suffice. With the GPS off, Grip can go for up to 2.5 days on a single charge.
Compatible with Android and iOS devices, the HTC Grip will hit the North American market soon, dressed in Deep Teal and Lime. The price will be $199.
source: HTC
HTC UNVEILS HTC GRIP: SERIOUS PERFORMANCE FOR SERIOUS ATHLETES
HTC launches GPS-enabled smart fitness tracker designed for UA Record™
Barcelona, Mobile World Congress, March 1, 2015
– HTC, a global leader in innovation and design, today unveiled its first high-performance, smart fitness tracker, the GPS-enabled HTC Grip™. Powered by UA Record, the new health and fitness network from Under Armour designed for athletes and fitness enthusiasts, Grip fuses HTC's renowned design with powerful, accurate tracking across a range of sports and activities, allowing athletes to set personal goals, then smash them. Compatible with Android and iOS devices1, as well as Bluetooth-enabled accessories like heart-rate monitors, Grip extends its functionality, providing additional performance data to the Under Armour Connected Fitness™ platform.
Drew Bamford, Corporate Vice President of HTC Creative Labs commented, "Our partnership with Under Armour has allowed us to direct our combined ambition, talent and passion towards developing new ways to empower athletes to make the most of their training every day. Grip is our first product to offer deep integration with UA Record, providing an experience that will surpass the high standards of even professional athletes."
Robin Thurston, SVP, Connected Fitness, Under Armour said, "HTC is an exciting partner for Under Armour and Grip, designed by HTC and powered exclusively by UA Record, is just a taste of what's to come in the next year. Together we're looking forward to exploring new ways to empower and inspire athletes of all levels and to rewrite the rulebook of performance tracking, training and improvement."
Uncompromising design, peak performance
Grip is designed to comfortably support even the most extreme training regimes. The contoured, waterproof band conforms to your wrist without pinching your skin or catching on clothing during workouts. The curved PMOLED display also makes it easy to read time, distance and notifications on the move. Available in three sizes, to ensure a perfect fit, Grip complements even the most advanced training equipment and apparel in both style and performance.
Capable of tracking and recording a variety of workouts (from running and cycling to time spent at the gym), Grip is also waterproof2, making it perfect for tracking every step, from the gym to the shower and beyond. Its 100mAh battery lasts up to five hours when the integrated GPS is turned on, enabling Grip to accurately capture route, distance, pace and calories burned, all of which sync with UA Record in real time. Grip also connects to an assortment of external heart rate monitors, including the Under Armour A39, making it ideal for athletes wanting to track their heart rate. For everyday usage, Grip lasts up to 2.5 days on a single charge, ideal for tracking daily activity.
Professional trainers will agree that sleep is crucial to the success of any serious training program and Grip's auto sleep detection records the total amount of time spent asleep. Periods of deep and light sleep are also recorded with a view to helping you develop sleep patterns that will help athletes unlock peak fitness and performance.
Stay connected, stay focused
Even in the midst of the most punishing workout, nobody wants to feel out of touch. When connected to an Android or iOS smartphone, a simple glance at your wrist allows you to see incoming call and message notifications, without missing a step or interrupting your flow. A clear, 1.8 inch PMOLED display shows your latest real-time stats and provides an easy way to remotely control your music playlist from your wrist.
Go hard or go home – get inspired with full UA Record integration
The HTC Grip has been designed to seamlessly synchronize performance data with Under Armour's UA Record, allowing you to access powerful analytics that show the impact of your training along with your social community and exclusive content for an all-in-one digital experience. Be inspired by updates from professional athletes, nutritionists and trainers, or alternatively, make your personal motivation a team effort, and support your friends with their goals, by sharing your updates and photos or competing directly with them in interactive challenges.
The HTC Grip will be available in Deep Teal/Lime at select retailers in North America, beginning in Spring 2015.