HTC Desire 816 also garners 1 million pre-orders in China...or did it?
11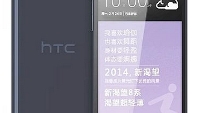 Some excitement came out of China this past week when it was revealed that
the Nokia X had picked up 1 million pre-orders in China after just four days
. However, that figure turned out to be tainted when it was discovered that the pre-orders came from China's JD.com. The popular online retailer in the country was allowing prospective
Nokia X
buyers to
register pre-orders without requiring a payment to secure the order
. To make matters worse, the retailer featured a contest that required that visitors to the site press the pre-order button in order to be entered. The prize? Why, a Nokia X handset, of course.
It seems that something similar has taken place with pre-orders for the
HTC Desire 816
. When it was announced last week that HTC's handset had scored 450,000 pre-orders, the news was considered so positive for the Taiwan manufacturer that its shares rose. And this weekend, HTC's Weibo account featured the news that the HTC Desire 816 had hit the 1 million mark in pre-orders. Time to celebrate in Taiwan?
Well, as it turned out, those 1 million pre-orders for HTC's phone were just as illusory as the million pre-orders for the Nokia X. HTC, in fact, called it a "0 Yuan pre-order" which is about what the value of these pre-orders are to both Nokia and HTC.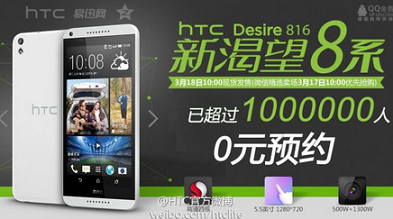 HTC celebrates pre-orders of 1 million units of the HTC Desire 816
Thanks for the tip!
source:
HTC
(translated) via
GforGames