HTC Desire 816 Review
26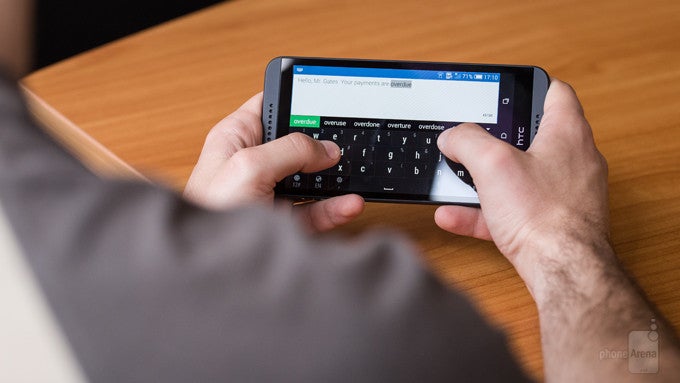 Introduction
Until recently, one could easily figure out whether a given Android smartphone was a low-end, a mid-range, or a high-end device solely by having its size into consideration. The bigger the phone, the higher its rank was in the Android ecosystem. Things, however, have changed a bit over the past couple of years or so. Mid-range handsets of phablet caliber have started popping up already, and HTC is one of the newcomers to the party.
Meet the
HTC Desire 816
. Described by its maker as a "flagship mid-range" phone, it strikes a great balance between price and features with its generous 5.5-inch display, quad-core processor, and 13MP camera. At the same time, goodies borrowed straight from the company's flagship, the
HTC One (M8)
, are making an appearance in HTC's phablet, including the gorgeous Sense 6.0 interface and the awesome pair of front-facing BoomSound speakers. All of this can be yours for around $400 off-contract, which seems like a pretty sweet deal. Or is it?
Design
A plastic device at its core, but with a solid, reassuring feel to it.
HTC has taken a minimalist approach when designing the Desire 816. With its straight lines, subtle curves, and flat front and back sides, the handset is both a pleasure to hold an admire. Sure, it is a plastic-made phone in essence, but it feels solid, sturdy, and reliable. The trim around the sides has a matte finish and an almost rubbery-like feel to it, which provides plenty of friction for a surprisingly comfortable grip. On the downside, the glossy plastic back of the phone attracts a certain dose of finger smudge, but a quick wipe with a soft piece of cloth is enough to get rid of it. i
Of note is also the considerable physical size of the HTC Desire 816. Measuring 6.17 by 3.10 inches (156.6 by 78.7 centimeters), it is difficult to operate single-handedly and to carry in a pair of jeans' side pocket. Moreover, it is a rather tall handset, presumably to accommodate the pair of BoomSound speakers. Yup, the 816 offers stereo front-facing speakers, just like the HTC One (M8), but we'll save our comment on their quality for later.
The power and volume keys on the HTC Desire 816 are positioned on its left side. These can be hard to reach unless one resorts to their second hand in order to operate them. Furthermore, the keys lack in feedback and travel. Virtual on-screen buttons are used for navigating through the software's interface. These, at least, are easier to reach by the user's thumb. On the right side of the HTC Desire 816 reside the microSD and Nano SIM card slots. These are protected by a flap that rests flush with the handset's side, thus not disrupting the design's seamless lines.
Display
Plentiful real estate with satisfactory resolution make for an overall likeable display.
The massive LCD display is one of the HTC Desire 816's key selling points. It measures 5.5 inches in diagonal, which puts the handset in the trendy phablet category. Some potential buyers, however, might find its pixel count a tad disappointing – the panel has a resolution of 720 by 1280 pixels, producing a PPI figure of 267 pixels per inch. On one hand, this is clearly not the sharpest smartphone display in existence as the 400 ppi barrier has long been shattered. But on the other hand, we find its resolution perfectly acceptable given the Desire 816's class. We can comfortably browse our favorite internet sites and read articles after zooming a bit on them. Watching videos and photos, as well as playing games, are also pleasurable experiences thanks to the screen's generous size.
As far as color reproduction goes, we're mostly satisfied with what our eyes see. However, the Desire 816's screen has a color temperature of 7404 Kelvins, which is a bit off from the reference figure of 6500 K. Whites have a slightly cold tone as a result, although the deviations are tolerable. Primary colors come pretty close to their reference points, as our measurements confirm. Colors do not exhibit any significant under- or oversaturation.
Using the HTC Desire 816 under broad daylight is possible thanks to its decent brightness output of 389 nits. Things, however, get a bit hard to see if light is reflected straight at the user. On top of that, the display's surface can easily get covered in fingerprints, which could potentially hinder its outdoor usability. The screen's minimum brightness of 12 nits is okay. Having this figure in mind, the user's eyes should not be subjected to too much strain while the phone is used at night.
Display measurements and quality