HTC Arrive coming to Sprint March 20th for $199 with the copy&paste Windows Phone 7 update
19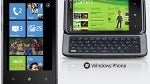 Sprint just announced the first CDMA Windows Phone 7 device - the
HTC Arrive
. It is the same as the HTC 7 Pro, but with CDMA radio instead of GSM inside.
The HTC Arrive has a great backlit chiclet physical QWERTY keyboard with five rows of keys, LED lights for the Shift and FN keys, as well as a dedicated number row up top. HTC innovates again by designing a dedicated pit for the lower part of the tilting screen half when it's pushed open, so your thumbs don't bash against it while typing, since it is almost flush with the keyboard half now.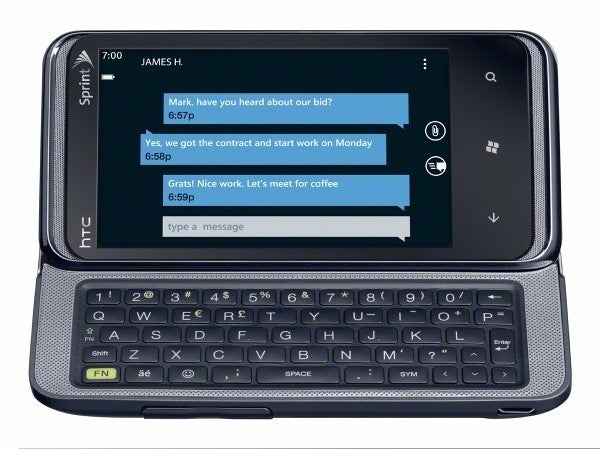 The display itself is
3.6"
LCD with 480x800 pixels of resolution, and the phone has a
5MP
camera with LED flash that does HD video recording plus 16GB internal storage to record that video to. The HTC Arrive is quite on the heavy side, with its 6.48 ounces, and it is rather bulky with its 0.61" thickness. This heft adds to the solid feeling of a typical top-notch HTC build quality, aided by the
brushed aluminum
battery cover and soft touch plastic on the back.
The Windows Phone 7 interface on the HTC Arrive has been
customized
by Sprint via the inclusion of the company's Sprint Zone, Sprint TV, movies and NASCAR Sprint Cup Mobile apps. Sprint also clarified that the phone will ship with the latest Windows Phone 7 update that will bring copy&paste to the WP7 handsets, among other goodies.
The carrier will be launching the HTC Arrive on
March 20th for $199
after a $100 mail-in rebate on an Everything plan with data plus the $10 Premium Data add-on.
Excited about Windows Phone 7 hitting the US CDMA carriers?
source: Sprint