HP Veer Launch Party Event scheduled for May 2nd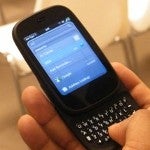 The smallest webOS device, the HP Veer, will be the guest of honor at a Launch Party in Anaheim on May 2nd. As we
reported
, the Veer is about the size of a credit card with a 2.6 inch display coming in with a resolution of 320 x 400 pixels. The Qualcomm 7230 Snapdragon, clocked at 800MHz, will power the handset which is so small that both a headphone jack and a micro-USB port will not fit on the model.
Despite its munchkin-esque stature, the Veer is equipped with a slide-out portrait QWERTY keyboard while a 5MP camera is on the back. The phone offers 8GB of storage along with 512MB of RAM. Powering the device will be webOS 2.2.
While the original introduction of the HP Veer failed to mention a specific carrier that the handset will be on, one person signing up for the Launch Event was told to bring an AT&T or Best Buy business card. This would seem to imply that the HP Veer will be released on AT&T, and with this party coming the first week of May, the actual launch shouldn't be too long afterward.
source:
PreCentral