HP TouchPad might hit shelves in April
1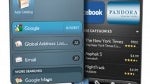 HP's TouchPad is worth a look justbecause it features HP/Palm's beautifully simple webOS in its thirditeration, but up until now the wait for it just seemed too long –the tablet was announced at HP's Think Beyond event with a launch date of "this Summer." TheTouchPad however will start selling in April, way ahead of the summermonths, while late March is when the tablet will start shipping out, a Digitimes reportclaimed based on "sources from HP's upstream component partners." While you should take this with a grain of salt, it does coincide with recent statements from HP's own Leo Apotheker about the need for more urgency when it comes to bringing innovation to the market.

Now that must be the effect of globalwarming on the early arrival of summer, but we won't mind seeing thedual-core 1.2GHz Snapdragon-powered tablet hit shelves inApril! The HP TouchPad will not only feature the new tablet version of webOS, but will also be able to easily synchronize with phoneslike the HP Pre 3 and the HP Veer. The tablet will initially come ina plain Bluetooth and Wi-Fi version, but later versions will addmobile data connectivity including 4G.

The TouchPad roll-out is crucial forHP's presence on the tablet market. The company expects to shiparound 4-5 million tablets in 2011, a milestone that will make webOSknown in the tablet market. Will it succeed? With an early launchchances are much higher.
source: DigiTimes