HP Slate 6, Slate 7 VoiceTab, and Slate 7 Extreme hands-on: branded affordability
4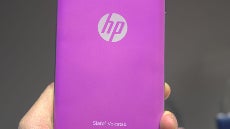 HP unleashed a trio of Android t(ph)ablets recently, and we took them for a spin at the MWC expo. Those aren't going to wow you with a spec sheet, or looks, for that matter, but are still pretty decent devices, at a rock bottom price, so let's briefly recap what we found out about the trio.
The
HP Slate 6 VoiceTab
offers quite the svelte styling for its price range, as you can see in the slideshow below, with numerous matte back cover colors to choose from. The 6" display is with 800x1280 pixels of resolution, and we found it to offer vibrant colors, and very good viewing angles. Android 4.2.2 ran smooth on a 1.2 GHz quad-core Marvell processor, coupled with with 1GB RAM. HP has arguably been prepping updates to Android 4.3 Jelly Bean for the trio, but nothing has landed at this point.
There is also a 5MP rear camera, and an HD-capable front shooter on the Slate 6 VoiceTab, too, while HP included 16 GB of storage out of the box, with a micro SD slot for expansion. The phablet offers 3G connectivity, and has dual SIM support. HP provided its DataPass service with the handset, subject to regional availability, which gives users 250MB of free 3G data service per month, for a period of two years.
HP Slate 7 VoiceTab
The Slate 7 VoiceTab is still dubbed a phone by HP, despite the largish for a handset display, and its specs are identical to the Slate 6, save for the screen diagonal. The default color option for the matte back is silver, but, just as with the Slate 6, the Slate 7 offers Snow White, Neon Purple, Marine Blue, Neon Pink and Grass Green covers, spicing it up. It features the same 1,280x800 pixels of resolution, and the IPS screen technology ensures good image quality, and nice viewing angles. Slate 7 VoiceTab has two frontal speakers, but we can't attest to their quality, as the show floor was rather noisy around.
HP Slate 7 Extreme
Last, but not least in the trio, comes the
Slate 7 Extreme
version. Despite sporting a very similar design to the Slate 7, front facing speakers and all, this puppy ups the ante from the previous two with better specs, and a built-in stylus. The stylus is very easy to take out from the silo, and put back in, yet is not wobbly in the hand, or in the silo. Android 4.2.2 looks a bit pixelated on the 1,280x800 pixels IPS display, but runs without a hitch, thanks to the 1.7 Ghz quad-core Tegra processor, coupled with 1 GB of RAM. You can choose from a 16 GB or 32 GB versions of the Slate 7 Extreme, plus there is also a microSD card storage expansion slot.
Expectations
The Slate 6 and Slate 7 VoiceTabs will be available in EMEA countries from May, including France, Germany, Switzerland, Sweden and the UK, where you can get it from the HP stores. The specs aren't anything to write home about, but we found the design to be solid, and nice to the feel, plus those two come at the fairly decent €249 ($343), and €229 ($315) price tags, respectively. The HP Slate 7 Extreme is another thing entirely, as it doesn't sport voice and data abilities, so it is available in the US from the bottom-feeding $199, ensuring plenty of potential users, looking for a cheap, but decent stylus-equipped Android tablet.