HP Slate 6 and Slate 7 VoiceTab phablets appear in press photo, release date tipped for next month
6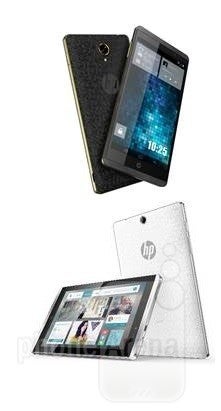 HP Slate 6 (up) and Slate 7 (down) VoiceTabs
Yesterday we got tipped a
tiny pic of the upcoming HP Slate 6 VoiceTab phablet
, and today we got sent higher quality (though still tiny ) photos of both the
Slate 6 and Slate 7 VoiceTabs
.
Tiny is not a word you can use to describe HP's foray into the entry level phablet segment, however, as one of these carries a 6" screen, and the other a 7" one. Still, the VoiceTab moniker indicates they can be used for calls, supposedly including the 7-incher.
The Slate 6 design coincides with what we saw yesterday snapped in the flesh, but pictured in black this time, whereas it's the first time we see a render of the HP Slate 7 VoiceTab, which carries a smaller camera opening on the back, and seems to lack an LED flash, unlike the Slate 6.
We also dug out
references to the HP Slate 6 VoiceTab on Zauba
, the Indian import database, which show that the launch is not far away, and our source indeed tipped us that the release of HP's affordable phablets is happening as soon as next month.
The huge "handsets" are expected to carry 720p screens, and come powered by 1 GHz quad-core Marvell chipsets, which warrants their low $200-$250 price range.

References to the HP Slate 6 phablet in the Zauba Indian import database