Google Maps for iOS gets updated to include waiting times at restaurants, and more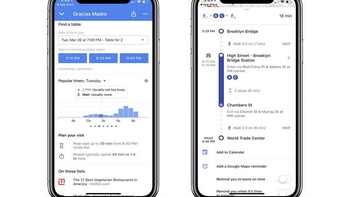 No one likes to pull up to a restaurant and find that there is a long wait before their party can get seated. So Google Maps for iOS is adding a new feature that will show the average waiting times at certain eateries hour by hour throughout the day. Users will also learn how long the average wait is, and when they can expect the peak waiting time to take place. The update, to version 4.4.7, will provide the average waiting times for over one million restaurants. The update also makes it easier to find reviews on a specific restaurant.
Another new feature added to Google Maps for iOS gives those taking public transit, the exact entrance they need to use in 12 cities throughout the world. The exact changelist for the update reads:
See average wait times at over a million restaurants worldwide.
Search and sort through reviews of a place.
Get transit directions that tell you exactly which entrance you need to go into.
This feature is available now in New York, Hong Kong, Taipei, Paris, Los Angeles, Delhi, Moscow, Singapore, Madrid, Barcelona, Kiev, and Budapest, with more on the way!
Google Maps is a free download from the App Store and Google Play Store. The update we are referring to in this story is for the iOS app only. To install Google Maps on your smartphone, click on the appropriate link. (iOS|Android)
source: MacRumors