Google Search updated on BlackBerry 6.0 devices, catches up with the pack
1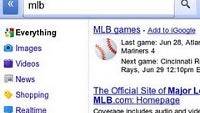 Google unveiled an improved search page for BlackBerry 6.0 devices, which, after all, carry WebKit-powered browsers. Those users can take advantage of auto-suggest, links to search for images, videos, news, and so on, the usual suite of Google services. Speed and performance are also said to be improved. Here is the list of changes:
-
Enter searches faster: Save time by using autocomplete and search history queries that appear beneath the search box as you type.
- Web search: Find what you're searching for fast. Comprehensive results pages let you see relevant websites, images, videos, news, real-time results and more. Simply click on the arrow button '>>' to the left of the top search box for more refinement options.
- Image search: Swipe through image results quickly and easily on touch enabled devices. Start by selecting 'Images' at the top of www.google.com, then enter a search. From there, click on any image to view a larger size.
- Local search: Find restaurants, shops and other popular business categories with a single tap. Start by selecting 'Places' at the top of www.google.com, then click on an icon from the Places homepage.
Those with compatible 6.0 phones, like the
Blackberry Torch
or
Bold 9780
, just have to visit Google's home page, and start taking advantage of the updated search page, which is available in 70 countries and 20 different languages. Granted, those have been available on iOS and Android for a while now, but it's good that Google didn't forget BlackBerry devices have WebKit-powered browsers too.
source:
Softpedia