Google releases the first Pixel 3 teaser and it's ... simple
5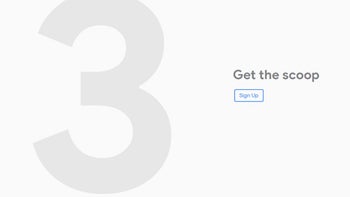 After Google's unannounced
Pixel 3 XL was in the center of a major leak
early this month, it would be quite redundant for the Mountain View company to start teasing some of the phone's features, since we already know just about everything there is to know.
That's probably one of the reasons that Google adopted a more conservative approach when it comes to increasing the hype around the upcoming
Pixel 3
and
Pixel 3 XL
. The first Pixel 3 teaser is the simplest we've seen in a very long time, and we've seen them all by now.
If you visit the Google Store page that we've linked at the bottom of the article, you'll be welcomed by a big "3" number alongside a "Get the scoop" sign-up button to keep you informed about what's cooking in the Google's labs.
Once you sign up, you'll start receiving updates from the Google Store related to the
October 9 event
where the search giant is expected to introduce the
Pixel 3 and Pixel 3 XL
. It can't get any simpler than that, right?