You can now send money to friends and have all your tickets in Google Pay
1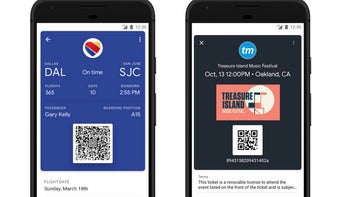 Starting today, Google Pay is becoming a lot more powerful and will now allow you to send money to your friends via the app, save concert tickets and boarding passes, as well as
manage all your info in one convenient place.
Frequent travelers will likely find the new boarding pass option the best one: once your tickets are saved, you can find them in the app's new Passes tab along with gift cards and loyalty cards, so you don't need to print anything and you can have all the info easily within reach. Concert-goers will be delighted to know they can now also have their tickets and Google Pay supports the biggest ticketing services like Ticketmaster and Eventbrite.
The other cool new option is the ability to send money to friends. Basically, Google is combining the Google Pay and Google Pay Sends app with this update, bringing it all into one place. This particular feature will only work in the United States.
This is just one more step in Google's quest for a single useful payment app. Earlier, the company merged the functionality of Android Pay and Google Wallet, and it continues improving its payment solution.