Google Now will help you with your annual caroling
1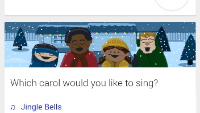 If you happen to be someone who celebrates Christmas, you may also be someone who likes to go caroling every once in a while (obviously, no one wants to go caroling too much.) And if you happen to be that type of person, it looks like Google wants to help you out and make your caroling a bit easier. A new update for Google Now may be just what you want.
The update to Google Now is all about using the voice command "Let's go caroling". If you use that voice command, Google will not just give you a nice image of carol singers, but it will also give you a selection of the more popular caroling songs, like "Jingle Bells", "Deck the Halls", and "We Wish You a Merry Christmas." From there, you just choose the song you want and Google will play it, and include the bouncing karaoke ball so you can follow along.
That means you and your caroling friends don't need to worry about practicing anymore, just ask Google and follow along. Best of all, getting the feature doesn't require a software update at all, this is all on Google's end. So, if you have Google Now, just say "Let's go caroling," and you'll be off and going.